the applied research collective for american jewry at nyu
the nyu applied research collective for american jewry convenes scholars and practitioners in and beyond the jewish community to collaboratively develop recommendations in funding and policy for jewish foundations and organizations.
mission
recognizing the dramatic societal, economic, and political changes of the 21st century, the collective seeks to generate a responsive body of literature and cohort of thinkers to enhance jewish communal life for the coming decades.
projects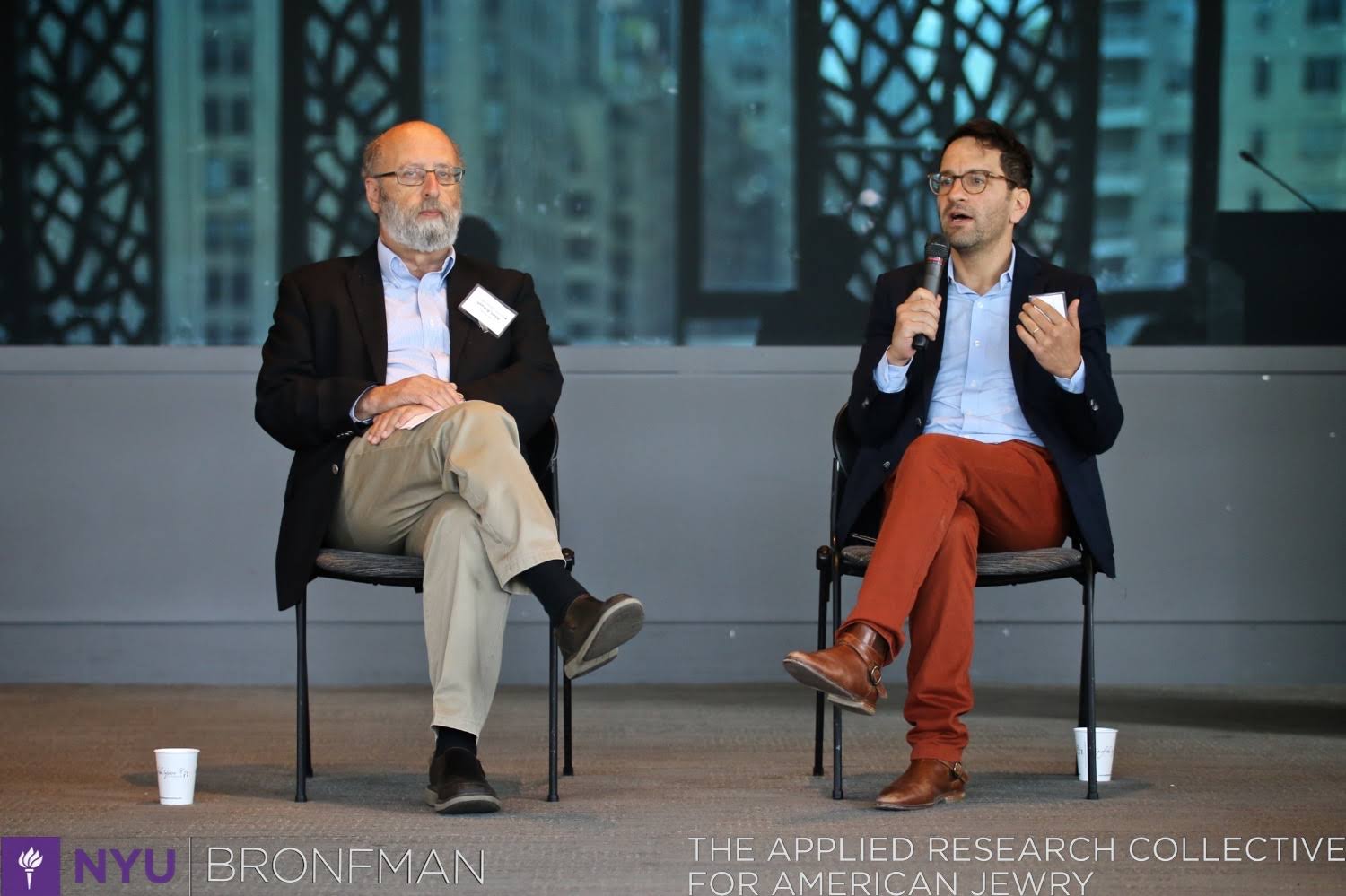 the projects of the collective include:
the research fellowship: through a collaborative writing process, scholars and practitioners from a variety of fields, which reflect the demographic diversity of american jewry, will release a joint publication.

roundtable: In the first week of June 2019, fellows will present their work at new york university open to scholars, foundation professionals, and jewish communal leaders.

journal: the journal of the collective is scheduled for publication in late 2019
leadership
chairs
Carol Gilligan, New York University
Eliyahu Stern, Yale University
director
Rabbi Yehuda Sarna, New York University
research scholar & program manager
Chelsea Garbell, New York University
advisory board
Mark Charendoff, The Maimonides Fund
Jay Kaiman, The Marcus Foundation
Barry Finestone, The Jim Joseph Foundation
Lisa Eisen, The Charles and Lynn Schusterman Family Foundation
fellows 2018-2019
Dr. Lila Corwin Berman is Professor of History at Temple University. She holds the Murray Friedman Chair of American Jewish History and directs the Feinstein Center for American Jewish History. Berman received her B.A. from Amherst College and her Ph.D. from Yale. She is currently writing a book titled "The American Jewish Philanthropic Complex: The Historical Formation of a Multi-Billion Dollar Institution" (under contract with Princeton University Press). She is author of Metropolitan Jews: Politics, Race, and Religion in Postwar Detroit (University of Chicago, 2015), for which she received support from the National Endowment of the Humanities and the American Council of Learned Societies, and Speaking of Jews: Rabbis, Intellectuals, and the Creation of an American Public Identity (California, 2009), a finalist for the Jewish Book Council's Sami Rohr Prize. Her articles have appeared in several publications, including the American Historical Review, Journal of American History, and Jewish Social Studies, as well as many edited volumes.
Dr. Jon A. Levisohn is the Jack, Joseph and Morton Mandel Associate Professor of Jewish Educational Thought at Brandeis University, where he also directs the Jack, Joseph and Morton Mandel Center for Studies in Jewish Education. A philosopher of Jewish and general education, he holds degrees from Harvard College and Stanford University, and has also studied at Yeshivat Sha'alvim, the Hebrew University, and the Shalom Hartman Institute. He is an alumnus of the Wexner Graduate Fellowship, and has recently served on the faculty of the Bronfman Fellowship and the Tikvah Institute. His publications include Turn It and Turn It Again: Studies in the Teaching and Learning of Classical Jewish Texts (Jon A. Levisohn and Susan P. Fendrick, eds., 2013), Advancing the Learning Agenda in Jewish Education (Jon A. Levisohn and Jeffrey Kress, eds., 2018), and Beyond Jewish Identity: Rethinking Concepts and Imagining Alternatives (Jon A. Levisohn and Ari Y. Kelman, eds., forthcoming).
Dr. Annie Polland is the Executive Director of the American Jewish Historical Society. She was formerly the Vice President for Programs & Education at the Lower East Side Tenement Museum, where she oversaw exhibits and interpretation. She is the co-author, with Daniel Soyer, of Emerging Metropolis: New York Jews in the Age of Immigration, winner of the 2012 National Jewish Book Award. She received her Ph.D. in History from Columbia University, and also served as Vice President of Education at the Museum at Eldridge Street, where she wrote Landmark of the Spirit (Yale University). She also teaches at New York University.
Steven I. Weiss is founder of a firm, currently in stealth mode, bringing big-data and artificial intelligence (AI) to the nonprofit and related sectors. Prior to his current experience in data science and AI, he spent 15 years as an award-winning investigative and broadcast journalist, newsroom manager and media entrepreneur. Repeatedly making international headlines with his reporting, his work has been repeatedly cited on CNN, MSNBC, Fox News, the BBC and Al Jazeera, as well as inthe pages of the New York Times and elsewhere. He has also published repeatedly on issues of national, moral, and Jewish concern, in such publications as The Atlantic, The Washington Post, New York, Harper's, and Slate, among many others. He lives in Harlem, with his wife and two children.
Yavilah McCoy is the CEO of the Diversity consulting group DIMENSIONS Inc. Yavilah is a pioneer of the Jewish diversity and equity movement and has been an activist and mentor for the empowerment of Jews of Color for most of her life. Yavilah was voted one of "16 Faith Leaders to Watch" by the Center for American Progress in Washington, DC. She is acertified coach for the Auburn Theological Seminary's Pastoral Coach Training Program and an inaugural fellow ofthe Sojourner Truth Leadership Circle. Yavilah is a certified trainer for the" A World of Difference Institute," the National Coalition Building Institute, and the National Center for Community and Justice. Yavilah was also the Director of Bronfman Philanthropy's Curriculum Initiative (TCI) in Boston, where she provided educational consultancy to 600 prep schools across the nation. Yavilah was one of the inaugural recipients of the Spielberg Foundation's Joshua Venture Fellowship, and the founding director of Ayecha, one of the first nonprofit Jewish organizations to provide education and advocacy for Jews of Color in the United States.
Leon Setton, LCSW is a practicing psychotherapist as well as, the Senior Social Worker at Footsteps, an organization that provides support for people transitioning out of Ultra-Orthodox Jewish communities. Leon received a certification in Psychoanalytic Psychotherapy from the Psychoanalytic Psychotherapy Study Center (PPSC) in New York City. Prior to his current work, Leon worked as the Assistant Director of Behavioral Health at GMHC working with LGBTQ and HIV+ populations.
Leon received his MSW from Hunter College School of Social Work.
Maia Ipp is a writer, editor, and culture producer. In 2018 she became a co-editor of Jewish Currents,the historic magazine of the Jewish left, whose quarterly print magazine, website, and public event campaign she helped redesign and reinvigorate. Alongside her duties as a co-editor, she writes and edits arts and culture features for the magazine. She is also currently the Teaching Artist for the Brooklyn Jews' New Jewish Culture Fellowship. In 2016-17 she lived in Krakow, where she held a writing fellowship from the Polish Ministry of Culture and co-founded Festivalt, a festival of avant-garde Jewishart and ideas. She created and led the Borderlands Residency in northern Poland in 2016, a collaborative workshop for Jewish and
non-Jewish artists from the U.S., Poland, and Lithuania who work on Holocaust-related projects. Maia is a Wexner Graduate Fellow/Davidson Scholar. She was Associate Director of Creative Writing at School of the Arts in San Francisco from 2009-2016, and was an editor at City Lights Books & Publishers from 2006-2011.
Joshua Foer is a writer and journalist whose work has appeared in The New Yorker, National Geographic, Esquire, Slate, Outside, the New York Times, and other publications. Moonwalking with Einstein, an international best seller published in 34 languages, is his first book. Josh is the co-founder of the online guide to the world's wonders & curiosities, Atlas Obscura, and co-author of the #1 NYT best seller Atlas Obscura: An Explorer's Guide to the World's Hidden Wonders. He is also the co-founder of the non-profit Sefaria, and of the design competition Sukkah City.


member bios
Members of the Applied Research Collective for American Jewry provide feedback to the ARC Fellows on their research and throughout the writing process. Additionally, Members facilitate an interactive discussion at the ARC Roundtable around the questions raised in the fellows' paper and work with the fellow until final publication of the ARC Journal.
Allan Arkush is Professor of Judaic Studies and History at the State University of New York at Binghamton and Senior Contributing Editor of the Jewish Review of Books. He holds degrees from Cornell University, the Jewish Theological Seminary, and Brandeis University. He is the author of Moses Mendelssohn and the Enlightenment and co-editor of Perspectives on Jewish Thought and Mysticism: Essays in Memory of Alexander Altmann. His numerous essays on modern Jewish thought and Zionism have appeared in Modern Judaism, Jewish Social Studies, Jewish Quarterly Review, Polity, and other periodicals and books. He is the translator of Moses Mendelssohn's Jerusalem and Gershom Scholem's Origins of the Kabbalah. From 2006 to 2009 he was the editor of AJS Perspectives, the magazine of the Association for Jewish Studies.
Jamie Allen Black is the Chief Executive Officer at the Jewish Women's Foundation of New York. She oversees all activities of the Foundation including grantmaking, development, advocacy, and operations. She brings more than 25 years of nonprofit leadership experience to the Foundation, most recently as the Director of Strategic Initiatives at Big Tent Judaism. Jamie also served as the Director of Strategic Planning, Communications and Training at Hadassah, where she mentored and trained professionals and Board members with development portfolios and created and implemented a multi-year strategic fundraising plan with innovative strategies for increasing donor participation. Jamie was a founding Board member of A More Perfect Union—an organization serving women recovering from domestic violence, drug addiction, and homelessness in facilities in New York City and Westchester. Jamie graduated from New York University from which she was awarded the NYU Dean's Alumni Award for Humanitarianism in 2010. She is a Board Member of the Elizabeth A. MacDonald Foundation and sings in the Community Choir at Central Synagogue.
Mark Charendoff is the President of the Maimonides Fund, a private grant-making organization dedicated to education and Jewish identity in North America and in Israel. He is the former President of the Jewish Funders Network (JFN), an umbrella body of over 900 Jewish family foundations and independent funders. Prior to JFN, Mark was the Vice President of the Andrea and Charles Bronfman Philanthropies where he helped to establish the Birthright Israel program, and he previously served as Director of Jewish Educational Services for the JCC Association of North America. He currently serves on the boards of the Birthright Israel Foundation, Shalem College and Moishe House. He is the recipient of the Bernard Reisman Award for Professional Excellence from Brandeis University.
Lisa Eisen is President of the Charles and Lynn Schusterman Family Foundation's U.S. Jewish Portfolio, including its Jewish and Israel Education grantmaking, the Schusterman Fellowship and the REALITY program. Lisa also founded the SafetyRespectEquity Coalition, which promotes women's leadership and addresses sexual harassment and gender discrimination in Jewish workplaces, and she serves on its Executive Committee.
Lisa was founding board chair of Repair the World, the Israel on Campus Coalition and the iCenter, and continues to serve on their national boards. She also serves on the boards of Grantmakers for Effective Organizations (GEO), the Israel Institute, BBYO and OLAM.
Prior to joining the Foundation, she served for nine years as Executive Director of Project Interchange Seminars in Israel, an institute of the American Jewish Committee (AJC). She has also held positions as AJC Washington Area Assistant Director and as Legislative Assistant to U.S. Representative Bart Gordon.
She graduated magna cum laude from Yale University with a Bachelor of Arts in History and earned her Master of Arts degree with honors in Israeli and Middle Eastern Studies at the Hebrew University of Jerusalem.
David Elcott the Taub Professor of Practice in Public Service and Leadership at the Wagner School of Public Service at NYU and faculty director of the Advocacy and Political Action specialization at Wagner. He also co-directs the Dual Degree Program of the Skirball Center and Wagner.
Dr. Elcott was formally the Vice-President of the National Center for Learning and Leadership, a think-tank tasked with training community leaders to rethink the nature of contemporary community and civic obligation. As Interreligious Affairs Director of the American Jewish Committee and as the Executive Director of the Israel Policy Forum, David has addressed a wide array of public policy issues, building interfaith and interethnic coalitions to address Middle East peace, immigration reform, civil liberties and criminal justice reform.
He has written A Sacred Journey: The Jewish Quest for a Perfect World and is editing a book entitled A Religious Awakening: Faith-based Responses to the Rise of Populism.
In 2013, Dr. Elcott received NYU's Martin Luther King Faculty Award. Dr. Elcott is trained in political psychology and Middle East affairs at Columbia University and Judaic studies at the American Jewish University.
Isaac Luria is the Director of Voice, Creativity and Culture at the Nathan Cummings Foundation. Isaac has worked at the intersection of faith, social transformation, and public voice for 15 years. As an organizer, technologist and strategist, Isaac is committed to elevating the voices of spirit and moral courage working to advance racial and economic justice across all religious and spiritual traditions and communities. His writing has appeared in The Forward, Tikkun Magazine and other publications.
Isaac previously served as a vice president of Auburn Seminary, a leadership development shop for the multifaith movements for justice. At Auburn, Isaac co-founded Groundswell, a digital platform where hundreds of thousands of people of faith participate in social action and direct programs that train thousands of faith leaders in media, storytelling, digital campaigning, social media and more. Isaac was also on the founding team of J Street, the political home for pro-Israel, pro-peace Americans.
Isaac holds a bachelor's degree in American studies from Trinity College in Hartford, Connecticut. He lives in Brooklyn with his wife, Rabbi Sara Luria, and their three young children.
Edieal Pinker is a Professor of Operations Research at the Yale School of Management where he also serves as Deputy Dean. He has a PhD and MS in Operations Research from MIT and BA in Mathematics from Columbia University. Pinker's current research includes predictive modeling in healthcare using machine learning methods and demographic analysis of the US Jewish community. His previous research on management topics has included the use of flexible workforces, work and workflow design in healthcare, online auctions, and responses to terrorist threats among others. He has served on the editorial boards of several leading journals in his field such as Management Science and Operations Research. Pinker has consulted for the United States Postal Service, the financial services industry and the auto industry. His work has been published in journals such as Operations Research, Management Science, Manufacturing and Service Operations Management, Journal of Oncology Practice, IIE Transactions, Production and Operations Management, and the Communications of the Association of Computing Machinery.
Letty Cottin Pogrebin is a founding editor and writer for Ms. Magazine. Pogrebin is also the author of eleven books, including her latest novel, Single Jewish Male Seeking Soul Mate, and the acclaimed guidebook, How to Be a Friend to a Friend Who's Sick. Among her other publications are two memoirs – Getting Over Getting Older, and Deborah, Golda, and Me: Being Female and Jewish in America – her first novel, Three Daughters, and the pre-feminist classic, How to Make it in a Man's World,
Pogrebin was also a founder of the National Women's Political Caucus; the Ms. Foundation for Women; UJA-Federation Task Force on Women; and the International Center for Peace in the Middle East. Pogrebin currently serves on the boards of Americans for Peace Now, the Free to Be Foundation, the Harvard Divinity School Women Studies in Religion Program, and the Brandeis University Women's and Gender Studies Program.
Her honors include a Yale University Poynter Fellowship in Journalism; an Emmy Award for Free to Be You and Me; inclusion in Who's Who in America; and in May 2018, she was inducted into the Manhattan Jewish Hall of Fame.
Letty Cottin Pogrebin is a graduate of Brandeis University.
Sue Reinhold, Ph.D., is the Managing Director of philanthropy at the San Francisco-Based Jewish Community Federation and Endowment Fund. She leads the donor-advised philanthropy advisory practice, Federation Philanthropy Partners, which helps nearly 1,200 families with over $160 million of annual grantmaking. She recently led the transfer of the East Bay Jewish Community Foundation into the SF-Based Federation. Sue was a founder and managing partner of an independent financial advisory firm, North Berkeley Investment Partners. Sue also helped found and was the first board treasurer of The Kitchen, a startup religious community, and was treasurer at the JCC of the East Bay during a turnaround period following the financial crisis. She is also Treasurer of the Board of Bend the Arc: A Jewish Partnership for Justice, and of the Mount Zion Health Fund, and a member of the investment advisory committee of Futures Without Violence. Sue is a graduate of Stanford University and holds a Ph.D. in Social Anthropology from the University of Sussex, where she studied as a Marshall Scholar. She recently completed the Wexner Heritage Program. Sue and her wife Deborah Newbrun live in Berkeley, where they are (nearly done!) raising four college-aged children in their blended family.
Rabbi Ethan Tucker is President and Rosh Yeshiva at Hadar and chair in Jewish Law. Ethan also directs Hadar's Center for Jewish Law and Values. Ethan was ordained by the Chief Rabbinate of Israel and earned a doctorate in Talmud and Rabbinics from the Jewish Theological Seminary and a B.A. from Harvard College. A Wexner Graduate Fellow, he was a co-founder of Kehilat Hadar and a winner of the first Grinspoon Foundation Social Entrepreneur Fellowship. He serves on the board of the Harold Grinspoon Foundation and the Ramaz School. He is the author, along with Rabbi Micha'el Rosenberg, of Gender Equality and Prayer in Jewish Law (2017).

David Weinstein is the author of The Eddie Cantor Story: A Jewish Life in Performance and Politics (UPNE/Brandeis University Press, 2018), a lively biography of the popular entertainer. His previous book, The Forgotten Network: DuMont and the Birth of American Television (Temple University Press, 2004), chronicles the history of the pioneering DuMont Television Network. Weinstein has written and spoken widely about popular media and American Jewish history. He has been featured on C-Span Book TV and has been interviewed on NPR, the BBC, and many podcasts. In addition to writing, Weinstein works as a senior program officer in the Division of Public Programs at the National Endowment for the Humanities (NEH). He advises documentary filmmakers, radio producers, museums, and digital media makers on ways of using scholarship to craft engaging humanities programs. Weinstein also presents funding workshops and lectures on grantmaking and the humanities. He holds a Ph.D. in American studies from the University of Maryland and a B.A. from Brandeis University. Weinstein has taught at the University of Maryland and George Mason University. He lives in the Washington, D.C. area and is active in his local Jewish community.
Rabbi Joe Wolfson works at New York University in Manhattan as the Director of the Jewish Learning Initiative on Campus (OU) and as the rabbi of the Orthodox community there. He grew up in London and spent ten years studying, working, and loving life in Israel. He studied at Yeshivat Har Etzion and Bet Morasha, through which he received his semikha from the Israeli Chief Rabbinate. He thought he was going into politics and did degrees at Cambridge, where he was president of the Jewish Society and UCL. He decided to go into Jewish education and has taught texts on four continents primarily as a faculty member of London School of Jewish Studies. Beyond music, good books, cycling and HBO, Rabbi Joe is passionate about the way in which texts link up to larger issues of Jewish identity. He has worked in areas as diverse as the Israeli-Palestinian conflict, religious-secular relations in Israel, and European Jewish communities.